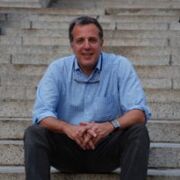 Alan Kingsberg (born on December 7, 1956 in Manhattan, New York City, New York, USA) is an American producer, writer and educator who was an episode writer for Shining Time Station. He wrote three episodes for the show. Other credits include "Law and Order: Criminal Intent", "Weeds", "New Girl", "Smash", "Vegas", and "Onion".
He is a writer at Nickelodeon, a teacher at his own TV writing school, and an adjunct professor at Columbia University.
Episodes written
Trivia
External Link
Ad blocker interference detected!
Wikia is a free-to-use site that makes money from advertising. We have a modified experience for viewers using ad blockers

Wikia is not accessible if you've made further modifications. Remove the custom ad blocker rule(s) and the page will load as expected.