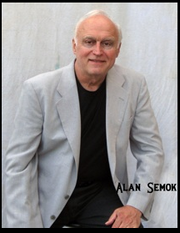 Alan Semok (born on October 2, 1952) is a team member of Flexitoon. He performed several of the characters from The Jukebox Band.
He also stared as himself in the first season episode, Show and Yell.
Appearance in Show and Yell
Alan came into to the station to catch a train, however the train was taking longer than expected so he has to wait. While he waited he entertained Matthew Jones and Tanya Cupper with ventriloquist dummies and leave them with kids while goes off to run a few errands.
Characters
Grace Bass (performed; first season only; 1989)
Tex (performed and voiced; 'Tis a Gift to The Family Specials; 1990–1995)
Gallery
Ad blocker interference detected!
Wikia is a free-to-use site that makes money from advertising. We have a modified experience for viewers using ad blockers

Wikia is not accessible if you've made further modifications. Remove the custom ad blocker rule(s) and the page will load as expected.