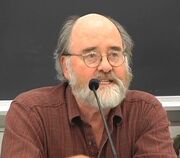 Angus Wright (born, Angus Mackenzie Nicholson Wright, on April 11, 1934 in Sunderland, England, UK - died on June 15, 2012 in France) was an executive producer for the first season of Shining Time Station and the third, fourth and fifth seasons of Thomas the Tank Engine and Friends.
He was married to both shows' creator, Britt Allcroft.
He retired in 1997, divorced Allcroft and moved to France and died on June 15, 2012 at the age of 78.
Ad blocker interference detected!
Wikia is a free-to-use site that makes money from advertising. We have a modified experience for viewers using ad blockers

Wikia is not accessible if you've made further modifications. Remove the custom ad blocker rule(s) and the page will load as expected.