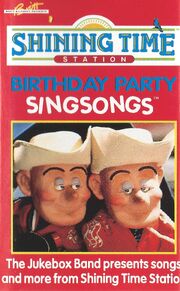 Birthday Party Singsongs is a Shining Time Station audio cassette tape featuring eleven songs released by Video Treasures. The tape features a storyline done in the style of a radio broadcast, with Didi and Tito as the hosts, while Tex and Rex provide the humour to the show.
Plot
The Jukebox Band host a radio show called "Juxbox Radio" for the listeners of the tape and other little people who live inside jukeboxes. Didi and Tito wish they had something to do, when Didi suggest they throw a birthday party despite it being not anyones birthday but conclude it's someones birthday somewhere. During the course of the party JJ Silvers calls up the radio show asking them why they are partying instead of working, in which Didi hangs up on him claiming they are losing contact. The band and other puppets on the radio show continue with various things relating to birthday like poetry corner, how to bake a cake and how wishes should be made. By the end of the show everyone starts the clean up as the band wishes the listeners a Happy Birthday with the show coming to its end.
Characters
Cast
Songs
Trivia
Goofs
Gallery
Ad blocker interference detected!
Wikia is a free-to-use site that makes money from advertising. We have a modified experience for viewers using ad blockers

Wikia is not accessible if you've made further modifications. Remove the custom ad blocker rule(s) and the page will load as expected.