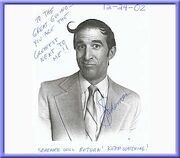 Brian O'Connor (born Brian Edward O'Connor on February 14, 1953 in Lynnfield, Massachusetts, USA) is an American actor, comedian and composer who is best known for playing the role of Horace Schemer on Shining Time Station. Rick Siggelkow stated in an SiF interview that O'Connor worked very hard when it came to the show and that he would often come up with ideas to be put in it. Schemer's distinctive curl and nickel obsession are two examples.
Trivia
O'Connor was a member of the comedy troupe "Slap Happy" and appeared with the group on HBO's Young Comedians Show.
He has also had several film roles, the most prominant, Beverly Hills Cop 2.
He still makes public appearances as the Schemer character.
He has a daughter named Sally.
His ex-wife is actress Jane Brucker who played the character of Lisa Houseman in Dirty Dancing.
On April 13th 2009, Brian was remarried to a woman named Laura Benko. They now reside in Los Angeles, California.
Gallery
Ad blocker interference detected!
Wikia is a free-to-use site that makes money from advertising. We have a modified experience for viewers using ad blockers

Wikia is not accessible if you've made further modifications. Remove the custom ad blocker rule(s) and the page will load as expected.