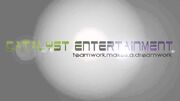 Catalyst Entertainment Inc. was a Toronto based production company that co-produced Shining Time Station with The Britt Allcroft Company and Quality Family Entertainment.
Catalyst Entertainment was co-founded by Nancy Chapelle in 1990. In 1994 most of the company was purchased by Gullane Entertainment.
They also provided production services for Thomas and the Magic Railroad.
Ad blocker interference detected!
Wikia is a free-to-use site that makes money from advertising. We have a modified experience for viewers using ad blockers

Wikia is not accessible if you've made further modifications. Remove the custom ad blocker rule(s) and the page will load as expected.