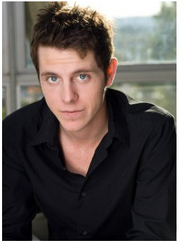 Cody McMains (born, Cody Arthur McMains on October 4, 1985 in Pasadena, California, USA) is an American film and television actor.
He started acting in the mid-1990's, and was best known for being in  "Not Another Teen Movie", "Big Bully", and Bring It On", with Kirsten Dunst. He currently acts in various TV series and independent films, such as "90210", "Desperate Housewives", "Everwood", "Monk", "Vicious Circle", "10 Things I Hate About You" and "Cold Case".
He played Patch in Thomas and the Magic Railroad.
External Link
Gallery
Ad blocker interference detected!
Wikia is a free-to-use site that makes money from advertising. We have a modified experience for viewers using ad blockers

Wikia is not accessible if you've made further modifications. Remove the custom ad blocker rule(s) and the page will load as expected.