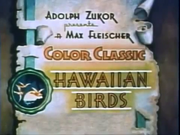 Color Classics
were cartoons produced by Fleischer Studios of Paramount Pictures from 1921 to 1942. The cartoons were known to be the creations of some of the most famous cartoon characters such as Betty Boop, Popeye the Sailor Man and the 1940's cartoons of Superman among others, because of this Fleischer Studios became the significant competior of The Walt Disney Company.
Because of these cartoons now being in the public domain, the crew of Shining Time Station used some of the films in their song segements, along with Noveltoons. ComiColor and George Pal's Puppetoons.
List of Cartoons used in Shining Time Station:
The Little Stranger (1934)
Somewhere in Dreamland (1934)
An Elephant Never Forgets (1935)
Time for Love (1935)
Christmas Comes But Once a Year (1936)
The Cobweb Hotel (1936)
A Coach for Cinderella (1936)
Hawaiian Birds (1936)
Play Safe (1936)
Peeping Penguins (1937)
Chicken A La King (1937)
Bunny Mooning (1937)
Hunky and Spunky (1938)
All's Fair At The Fair (1938)
Gulliver's Travels (1939)
The Fresh Vegetable Mystery (1939)
Small Fry (1939)
Little Lambkins (1940)
Snubbed by a Snob (1940)
Popeye The Sailor: Fright to the Finish (1954)
Ad blocker interference detected!
Wikia is a free-to-use site that makes money from advertising. We have a modified experience for viewers using ad blockers

Wikia is not accessible if you've made further modifications. Remove the custom ad blocker rule(s) and the page will load as expected.