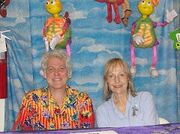 Craig Marin (born on December 31, 1951 in Queens, New York City, New York, USA) is the co-founder of Flexitoon. He was the supplier and lead puppeteer for the The Jukebox Band. He performed and voiced several of the members.
He also directed A Day in the Life of The Jukebox Band, A Jukebox Lullaby and Tribute to JJ Silvers, alongside Steven Feldman.
Bio
He has been married to Olga Felgemacher-Marin since May 15, 1982.
Characters
Rex (voiced and performed; 1989–1995)
JJ Silvers (voiced and performed; 1993–1995)
Songs
He also performed many songs, as Rex.
Trivia
Ad blocker interference detected!
Wikia is a free-to-use site that makes money from advertising. We have a modified experience for viewers using ad blockers

Wikia is not accessible if you've made further modifications. Remove the custom ad blocker rule(s) and the page will load as expected.