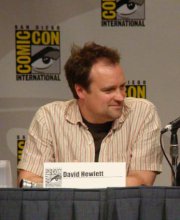 David Hewlett (born on April 18, 1968 in Redhill, Surrey, England, United Kingdom) is a English-born Canadian actor, writer, and director most famous for his role in the "Stargate" sci-fi series. He has appeared in numerous movies including "Rise of the Planet of the Apes", "Ice Men", "The Whistleblower" and "The Boys of St. Vincent: 15 Years Later".
He played Ted Typo in Shining Time Station. His name appears to have been misspelled in the end credits as David Hewl'i'tt.
Trivia
External Links
Ad blocker interference detected!
Wikia is a free-to-use site that makes money from advertising. We have a modified experience for viewers using ad blockers

Wikia is not accessible if you've made further modifications. Remove the custom ad blocker rule(s) and the page will load as expected.