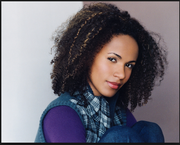 Erica Luttrell (born Erica Shukrani Luttrell, March 20, 1982 in Toronto, Ontario, Canada) is an Canadian born-actress of American and Tanzanian parentage. She portrayed Kara Cupper in seasons 2 and 3 and The Family Specials of Shining Time Station. She has pursued a professional acting and musical career.
Her other TV acting roles include Keesha from "The Magic School Bus", Leah in "The Famous Jett Jackson", Karen in "Buffy the Vampire Slayer", Princess Candy in "Disney's Dave the Barbarian", Simone in "As Told By Ginger", and Sapphire in "Steven Universe." She also appeared in the 1997 film, "Honey, We Shrunk Ourselves" as Jody.
Trivia
External Links
Ad blocker interference detected!
Wikia is a free-to-use site that makes money from advertising. We have a modified experience for viewers using ad blockers

Wikia is not accessible if you've made further modifications. Remove the custom ad blocker rule(s) and the page will load as expected.