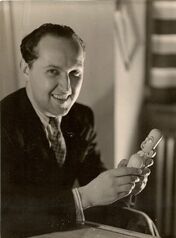 George Pal
(born,
György Pál Marczincsák
on February 1, 1908 in Cegléd, Austria-Hungary - died on May 2, 1980 in Los Angeles, California, USA) was an Hungarian-American animator, director, producer and cinematographer. Some of his cartoons appeared appeared in
Shining Time Station
. George Pal created and produced dozens of Peppetoon films for Paramount Pictures. Such as
Tulips Shall Grow
,
Jasper and the Haunted House
,
John Henry
,
Olio for Jasper
, and the famous animation of
Tuby the Tuba
. George was also known for producer for many Sci-Fi and Fantasy films such as
The War of the Worlds
(1953)
and
The Time Machine
(1960).
List of cartoons
His cartoon were featured in the following episodes:
Gallery
Ad blocker interference detected!
Wikia is a free-to-use site that makes money from advertising. We have a modified experience for viewers using ad blockers

Wikia is not accessible if you've made further modifications. Remove the custom ad blocker rule(s) and the page will load as expected.