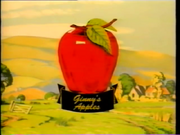 Ginny's Apple Orchard is an apple orchard located in Farmer's Dell and owned and operated by Ginny Johnson. In the paid advertisment shown, it opens with Ginny's greeting "Hey Hey Hey! What do we say?", possibly serving as a slogan.
Gallery
Ad blocker interference detected!
Wikia is a free-to-use site that makes money from advertising. We have a modified experience for viewers using ad blockers

Wikia is not accessible if you've made further modifications. Remove the custom ad blocker rule(s) and the page will load as expected.