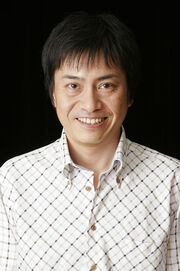 Hiroaki Hirata (born August 7th, 1963 in Tokyo) is a Japanese voice actor who voiced a character in the Japanese version of Thomas and the Magic Railroad. He is best known for voicing Kotetsu T. Kaburagi/Wild Tiger from "Tiger & Bunny", Edward Nigma/The Riddler from "The Batman", Tatsuji Chibiki from "Another", and Sanji from "One Piece". He is also the official voiceover for Johnny Depp and Matt LeBlanc.
Voices
Major awards and nominations
Won - Best Actor in a leading role at the 6th Seiyu Award, "Air Gear, One Piece and Tiger & Bunny", 2012
External links
Ad blocker interference detected!
Wikia is a free-to-use site that makes money from advertising. We have a modified experience for viewers using ad blockers

Wikia is not accessible if you've made further modifications. Remove the custom ad blocker rule(s) and the page will load as expected.