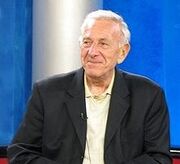 Jack Klugman (born, Jacob Joachim Klugman on April 27, 1922 in Philadelphia, Pennsylvania, USA - died on December 24, 2012 in Woodland Hills, Los Angeles, California, USA) was an American actor of stage, film and television. He began his career in 1950 and lasted 62 years until his death.
He is best known for his role on the ABC, television series, "The Odd Couple" for which he won two emmy awards.
In the Shining Time Station, Family Special Second Chances he played Max Okowsky.
Trivia
Ad blocker interference detected!
Wikia is a free-to-use site that makes money from advertising. We have a modified experience for viewers using ad blockers

Wikia is not accessible if you've made further modifications. Remove the custom ad blocker rule(s) and the page will load as expected.