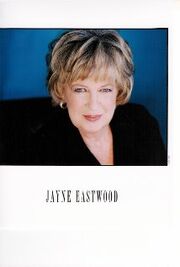 Jayne Eastwood (born on December 17, 1946 in Toronto, Ontario, Canada), also credited as Jane Easton or Jane Eastwood, is a Canadian actress.
She has starred in many Canadian and American films including, "Finders Keepers", "The Care Bears Movie", "The Santa Clause", "My Big Fat Greek Wedding", "Hairspray", "Twitches Too", "The National Tree", "Harriett the Spy: Blog Wars", and "Beethoven's Treasure Tale" and many TV shows including, "The Noddy Shop" "JoJo's Circus", "Babar and the Adventures of Badu", "Goosebumps" and "Little Mosque on the Prairie"
She played Doris "Helga" Boonswaddle in the Shining Time Station episode, Bad Luck Day at Shining Time Station and Jayne in the Schemer Presents! episode, How to Apologize.
Trivia
External Link