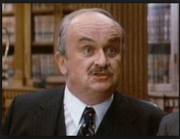 Jerome Dempsey (born on March 1, 1929 in Saint Paul, Minnesota, USA - died on August 26, 1998 in Manhattan, New York City, New York, USA) was an American actor of stage, film and television.
He appeared in several films including, "Nerwork", "Kent State", "Brewster's Millions", "The Imagemaker", "Tune in Tomorrow" and "Race for Glory".
He played Mayor Osgood Bob Flopdinger on Shining Time Staion.
He retired from acting in 1994 following the filming of Once Upon a Time and died on August 26, 1998 at the age of 69 due to heart failure.
Trivia
Ad blocker interference detected!
Wikia is a free-to-use site that makes money from advertising. We have a modified experience for viewers using ad blockers

Wikia is not accessible if you've made further modifications. Remove the custom ad blocker rule(s) and the page will load as expected.