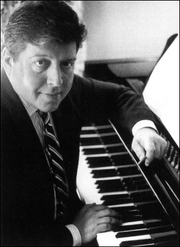 Joe Raposo (born, Joseph Guilherme Raposo on February 8th, 1937 in Falls River, Massachusetts, USA - died on February 5th, 1989 in Bronxville, New York, USA) was an Portuguese-American composer, songwriter, pianist, television writer and lyricist.
He wrote the theme song for Shining Time Station. He was better known for his work on "Sesame Street" which Raposo also wrote the theme song for, he also wrote one of the shows most famous songs One of These Things (Is Not Like the Other). He also wrote music for "The Electric Company", "Three's Company" and "The Ropers".
He also sang and wrote a few songs for the series including, Learn From Your Mistakes.

Raposo was born in Fall Rivers, Massachusetts and died in Bronxville, New York of non-Hodgkins lymphona. Raposo was buried at Union Cemetery in Chatham, Massachusetts.
Ad blocker interference detected!
Wikia is a free-to-use site that makes money from advertising. We have a modified experience for viewers using ad blockers

Wikia is not accessible if you've made further modifications. Remove the custom ad blocker rule(s) and the page will load as expected.