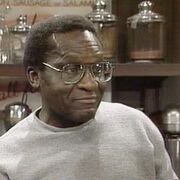 Leonard Jackson (born on February 7, 1928 in Jacksonville, Florida, USA - died on December 22, 2013 in Manhattan, New York City, New York, USA) was an American actor of stage, film and television. He appeared in a few PBS shows for children such as "Sesame Street" and Shining Time Station. His film credits include "The Brother From Another Planet", "Car Wash", and "The Color Purple".
He played Harry Cupper in Shining Time Station.
He died on December 22, 2013 at age 85.
Trivia
Ad blocker interference detected!
Wikia is a free-to-use site that makes money from advertising. We have a modified experience for viewers using ad blockers

Wikia is not accessible if you've made further modifications. Remove the custom ad blocker rule(s) and the page will load as expected.