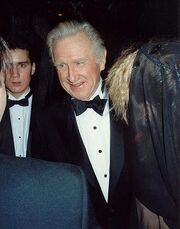 Lloyd Bridges (born Lloyd Vernet Bridges, Jr. on January 15, 1913 in San Leandro, California, USA – died on March 10, 1998 in Los Angeles, California, USA) was an American actor. He appeared in more than 150 feature films.
He played Mr. Nicholas in the one hour Christmas special, 'Tis A Gift.
He is the father of American actors Beau Bridges and Jeff Bridges.
Trivia
Ad blocker interference detected!
Wikia is a free-to-use site that makes money from advertising. We have a modified experience for viewers using ad blockers

Wikia is not accessible if you've made further modifications. Remove the custom ad blocker rule(s) and the page will load as expected.