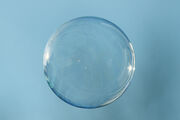 The Magic Bubble was sometimes used by Mr. Conductor to show people (mainly the children) various things relating to their situation. Like The Anything Tunnel and The Picture Machine, The Magic Bubble served as a way to show segments and songs. The Magic Bubble was one of the examples of Mr. Conductor's powers along with his teleportation and gold dust.
The Magic Bubble was used in a commerical to advertise the Season 3 with Stacy Jones.
Songs and Segments shown through the Magic Bubble
Season 1
Season 2
Season 3
Ad blocker interference detected!
Wikia is a free-to-use site that makes money from advertising. We have a modified experience for viewers using ad blockers

Wikia is not accessible if you've made further modifications. Remove the custom ad blocker rule(s) and the page will load as expected.