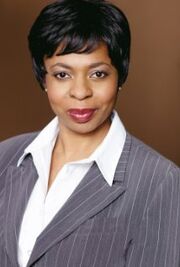 Marium Carvell is an actress that earns the distinction of making several speaking-role appearances on Shining Time Station.
Bio
Poor Marium gets 'barked' at Stacy in Achoo, bids on one of Schemer's used suit tops in Do I Hear, and her suitcase contents spill out on the station floor in Stacy Says No.
Carvell said in a 2015 interview with Sodor Island Fansite that she remembered being on Shining Time Station and has a fond memory of working with generous actors who were kind and funny. She said she was doing a lot of comedy at that time and working with a sketch comedy group that produced two great comedy writers, and that her boyfriend could not believe she was working on a show that one of the Beatles was working on.
Appearances
Trivia
She, Rodger Barton, Colin Fox, Ho Chow and Colin O'Meara all had roles in "Wind at My Back".
She, Jared Wall, Ho Chow, Eric Fink, Colm Feore Doug Lennox, Kevin Frank and Ardon Bess all had roles in "Due South".
She, Neil Crone, Peter Wildman, Richard McMillan and David Hewlett all had roles in "Murdoch Mysteries". Steve Wright also directed episodes for the show.
Gallery
External Link