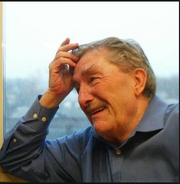 Michael Polley (born in 1933 in England) is a UK-born Canadian actor. He is the father of actor Mark Polley, actress-director Sarah Polley, and producer John Buchan. Even though he is now in his 80s, he is still acting in his daughter's recent television series, "The Shields Stories".
He played Rusty Rob McRail in Shining Time Station and Ed Hooey the Painter in Schemer Presents!.
Trivia
He, Barbara Hamilton, Judy Marshak, Peter Van Wart, Eric Fink and Colin O'Meara all had roles in "Road to Avonlea". His daughter Sarah Polley appeared in the show as well.
He, Jayne Eastwood, Erica Luttrell, Jared Wall, Bucky Hill, Andrew Sardella, Neil Crone, Eric Fink and Colin Fox all had roles in "Goosebumps".

He, Eastwood and Wall all appeared in the same episode.
Ad blocker interference detected!
Wikia is a free-to-use site that makes money from advertising. We have a modified experience for viewers using ad blockers

Wikia is not accessible if you've made further modifications. Remove the custom ad blocker rule(s) and the page will load as expected.