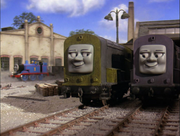 Moby Dick is a pet goldfish belonging to a young boy who lives near Shining Time Station. Stacy Jones sometimes looks after him while the boy is elsewhere. Mr. Conductor is the only human who can communicate with Moby Dick.
He only appeared in Thomas and the Magic Railroad.
Gallery
Ad blocker interference detected!
Wikia is a free-to-use site that makes money from advertising. We have a modified experience for viewers using ad blockers

Wikia is not accessible if you've made further modifications. Remove the custom ad blocker rule(s) and the page will load as expected.