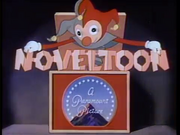 Noveltoons was a series of animated cartoons produced by Paramount Picture's Famous Studios from 1943 till its closure in 1967. Famous cartoon characters like Casper the Friendly Ghost, Herman and Katnip, Little Audrey and Baby Huey all came from Noveltoons productions. Along with ComiColor and George Pal's Puppetoons, the cartoons are in the public domain, which allowed Shining Time Station to use them in some of their song segments.
List of cartoons used in Shining Time Station
Gallery
Ad blocker interference detected!
Wikia is a free-to-use site that makes money from advertising. We have a modified experience for viewers using ad blockers

Wikia is not accessible if you've made further modifications. Remove the custom ad blocker rule(s) and the page will load as expected.