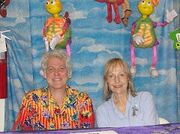 Olga Felgemacher-Marin (born, Olga Felgemacher on February 10, 1941) is the co-founder of Flexitoon. She performed and voiced DiDi in Shining Time Station.
Bio
She has been married to Craig Marin since May 15, 1982.
Trivia
Ad blocker interference detected!
Wikia is a free-to-use site that makes money from advertising. We have a modified experience for viewers using ad blockers

Wikia is not accessible if you've made further modifications. Remove the custom ad blocker rule(s) and the page will load as expected.