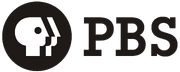 PBS, (or The Public Broadcasting Service) is an American public broadcaster and television program distributor made up of more than 350 member television stations. PBS is an independently operated non-profit organization, headquartered in Arlington, Virginia, USA, right outside of Washington, D.C., USA.
It aired Shining Time Station from 1989 until 1998, with new episodes airing from 1989 to 1993. PBS also aired The Family Specials and Mr. Conductor's Thomas Tales on their PBS Kids block.
Since 2004, they have aired the New Series of Thomas & Friends on their PBS Kids block.
External Link
Ad blocker interference detected!
Wikia is a free-to-use site that makes money from advertising. We have a modified experience for viewers using ad blockers

Wikia is not accessible if you've made further modifications. Remove the custom ad blocker rule(s) and the page will load as expected.