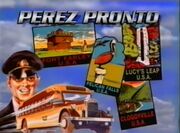 The Perez Pronto Bus Company is Felix Perez's bus company. The company transports passengers all across the Indian Valley. Stopping at such locations as Fort Farley, Pelican Falls, Lucy's Leap and Cloggyville.
The company's slogan according to the paid advertisment is "Winter snow or Summer sun, taking the bus is lots of fun!".
Ad blocker interference detected!
Wikia is a free-to-use site that makes money from advertising. We have a modified experience for viewers using ad blockers

Wikia is not accessible if you've made further modifications. Remove the custom ad blocker rule(s) and the page will load as expected.