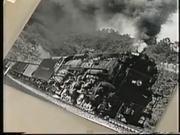 R&O Recycling Train also know as the R&O Freight Line was Rusty "Rob" McRail's train. He once had to stop the train at Shining Time Station. It is pulled by the Chesapeake & Ohio Railroad articulated steam locomotive, possibly an H-8 class engine with a wheel configuration of 2-6-6-6.
This train was used to carry all of Indian Valley's garbage and the train took the garbage to the dumps. When all the dumps closed the train just keep on collecting garbage.
When Becky was reading a newspaper Everyone decided to turn Rusty's Train into a Recycling Center and send it to a place to make it useful again and Mr. McRail decided to changed the name of his train to the "Recycle Express" cause of his new career of collecting things to the Recycling Center.
The locomotive in the picture is a photo of a Chesapeake & Ohio railroad 2-6-6-6 Allegheny, these engines were built by Lima for both the C&O and Virginain railroads for long slow drag freights and coal trains up the steep grades of the Allegheny mountains. By the late 50's, they were retired from service, all but two were scrapped. C&O Allegheny #1601 now resides in the Henry Ford museum in Dearborn, Michigan, while #1604 is at the B&O railroad museum.