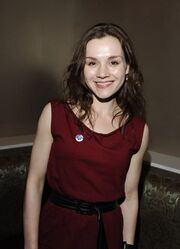 Rachel Miner (born July 29, 1980 in New York City, New York, USA) is an American stage, film, and television actress.
She has appeared in many television series' such as "Guiding Light", "Medium", "Army Wives", "Sons of Anarchy" and "Supernatural".
She played Vickie in the Shining Time Station Christmas special, 'Tis A Gift.
Trivia
External Link
Ad blocker interference detected!
Wikia is a free-to-use site that makes money from advertising. We have a modified experience for viewers using ad blockers

Wikia is not accessible if you've made further modifications. Remove the custom ad blocker rule(s) and the page will load as expected.