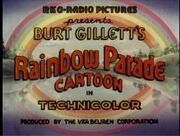 Rainbow Parade was a series of animated shorts produced by Van Beuren Studios and distributed by RKO Radio Pictures from 1934 to 1936. These animations were one off shorts mainly featuring characters like the Parrotville Parrots, Molly Moo-Cow, Toonerville Folks and Felix the Cat.
Molly Moo-Cow and the Butterflies (1935)
Felix The Cat - Bold King Cole (1936)
Ad blocker interference detected!
Wikia is a free-to-use site that makes money from advertising. We have a modified experience for viewers using ad blockers

Wikia is not accessible if you've made further modifications. Remove the custom ad blocker rule(s) and the page will load as expected.