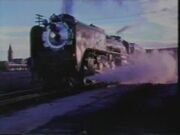 Billy Twofeathers' engine is named the Rainbow Sun. In the opening and closing credits of Shining Time Station, the locomotive is played by Union Pacific #844. In 'Tis A Gift, the Rainbow Sun was played by Grand Canyon Railway's No. 18 that lead The Northern Star. In Once Upon a Time, the Rainbow Sun was seen and it was played by the South Simcoe Railway's No. 136 that lead The Founder's Day Express. In Thomas and the Magic Railroad, it was played by the Strasburg Railroad's #475, built in 1906 and formerly on the roster of the Norfolk and Western Railroad.
Gallery
Ad blocker interference detected!
Wikia is a free-to-use site that makes money from advertising. We have a modified experience for viewers using ad blockers

Wikia is not accessible if you've made further modifications. Remove the custom ad blocker rule(s) and the page will load as expected.