"The ultimate gratification in work is feeling that you're doing something good. We're giving life lessons to children."
— Rick Siggelkow in 1993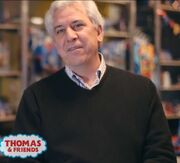 Rick Siggelkow is an American producer, director and writer. He was the co-creator of Shining Time Station alongside Britt Allcroft. He's also worked on "Noddy Shop", "Ace Lightning", "Dinosapian", "Little People" and the American dub of "The Animals of Farthing Wood". He recently appeared in the 70 Years of Friendship YouTube documentary.
He first called Britt Allcroft in 1986 after Jay Islin, the head of WNET, handed him a videocassette of Thomas episodes that he had brought home from England.
He and Allcroft co-produced the first season and were co-executive producers for the rest of the series. He, Allcroft and Nancy Chapelle co-produced the Jukebox Band series.
Rick and Allcroft are currently trying to get Shining Time Station onto DVD or back on television.
After Shining Time Station, he went to work for BBC Americas Worldwide, where he worked from 1996 until 2008. Since 2014 he has worked for HiT Entertainment.
Trivia
He, Jayne Harris Schipper and Jim Corston all worked as producers in "Dinosapien".
He, Jayne Harris Schipper, Julia Weinstein, Jill Golick, Brian McConnachie, Wayne Moss, Stacey Hersh, Jayne Eastwood, Peter Wildman and Neil Crone all worked on "Noddy".
He, Jim Corston, Alan Kingsberg, Peter Wildman and Stacey Hersh all worked on "Ace Lightning".
Gallery
External Links
Ad blocker interference detected!
Wikia is a free-to-use site that makes money from advertising. We have a modified experience for viewers using ad blockers

Wikia is not accessible if you've made further modifications. Remove the custom ad blocker rule(s) and the page will load as expected.