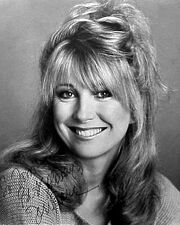 Teri Garr (born Terry Ann Garr on December 11, 1947 in Lakewood, Ohio, USA) is an American actress, comedienne, dancer, singer and voice actress.
She is known for her roles in the films "Tootsie", "The Black Stallion", "Mr. Mom", "The Black Stallion Returns", "Dumb and Dumber", "Changing Habits" and "A Simple Wish.
She played Sister Conductor in the Shining Time Station special, One of the Family.
Trivia
Ad blocker interference detected!
Wikia is a free-to-use site that makes money from advertising. We have a modified experience for viewers using ad blockers

Wikia is not accessible if you've made further modifications. Remove the custom ad blocker rule(s) and the page will load as expected.