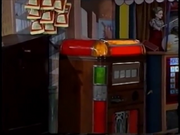 The Jukebox is located in Schemer's Arcade and is where The Jukebox Band reside.
Bio
The Jukebox Band, live and work in the Jukebox.
Appearances
The Jukebox has appeared in every episode and special. It also appeared in The Jukebox Band (series).
Areas
The are many areas in the Jukebox:
Stage - The place where the band performs.
Pressing Room - Where the band hangs out in-between songs.
Bedroom - Where the band sleeps.
Gallery