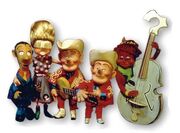 The Jukebox Band live inside the jukebox in
Schemer's Arcade
.
The Jukebox Band
The Jukebox Band live inside the jukebox in Schemer's arcade and play music when ever people insert a nickle into the jukebox, on occasions they play without being given a nickle.
Band Members
Others
Performers
Gallery
Video Releases
Craig Marin sent a letter to SiF Fansite, stating that 4 Jukebox Band videos were made. The other two that were not released on VHS were Tribute to JJ Silvers and an unknown title.
Sing Along Cassettes
Video
Ad blocker interference detected!
Wikia is a free-to-use site that makes money from advertising. We have a modified experience for viewers using ad blockers

Wikia is not accessible if you've made further modifications. Remove the custom ad blocker rule(s) and the page will load as expected.