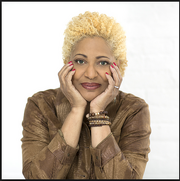 Vaneese Yseult Thomas (born, 1959 in Memphis, Tennessee, USA) is an American R&B, jazz and soul blues singer and voice actress. She is best known for her 1987 US Billboard R&B chart hit single, "Let's Talk It Over".
She provided the voice of Grace Bass, while Peter Baird and Kenny Miele performed her. She sang many songs on Shining Time Station as Grace Bass.
External Links
Ad blocker interference detected!
Wikia is a free-to-use site that makes money from advertising. We have a modified experience for viewers using ad blockers

Wikia is not accessible if you've made further modifications. Remove the custom ad blocker rule(s) and the page will load as expected.