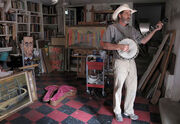 Wayne White is an artist, art director, illustrator, puppeteer and set designer who performed and voiced Tex in the first season. He was also the production designer for the first season of Shining Time Station.
He is known for his surrealist themes in his artisty, being involved in such works as "Pee-wee's Playhouse", Weird Al Yankovic's "The Weird Al Show" and "Beakman's World". He was also the art designer for The Smashing Pumpkins music video "Tonight, Tonight", which is often considered to be one of the greatest music videos of the 90s and of all time.
External Link
Ad blocker interference detected!
Wikia is a free-to-use site that makes money from advertising. We have a modified experience for viewers using ad blockers

Wikia is not accessible if you've made further modifications. Remove the custom ad blocker rule(s) and the page will load as expected.